MAY YOUR MAY BE FILLED with HAPPINESS!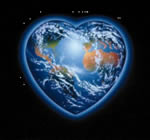 May 1st is the GLOBAL LOVE DAY! Happy Belated Love Day to you all! For the fourth year, people over 98 countries over the world have been celebrating May1st as the GLOBAL Love DAY. If you didn't know, just take a few minutes now to ground yourself and radiate love to whole humanity and to the universe. You will feel a release and relief whenever you include others in your prayers. The more, the merrier! Whatever you put out comes back to you in multiples!
May 2nd is my son's birthday. He turned 21 this year. I am so lucky to have him in my life. He is my mentor as much as I am his. Be open to your children's wisdom. Listen to their remarks even if they hurt or make you angry (see next paragraph about anger) time to time. Your children have a lot to give, be open to receive. All they want from you is respect, and to be treated as equal, not as children- no matter how old they are. You will be surprised to find out how much you can learn from them if you allow it.
If a comment is making you angry, ask yourself why you have that "emotional response" to it. You don't have to agree with what everyone says, but if you are having an emotional reaction to something someone said, that's a wonderful clue for you to use EFT! Ask yourself "Why I am reacting this way? What might I be associating this comment with? How is my body responding?" When you start analyzing the situation for answers within you, some magical things happen:
Your anger goes away fast because you are already out of that mode.
You break the ANGER- SELF PITY- SELF BLAME vicious cycle by getting out of the anger mode fast and focusing on the root of the emotional reaction.
You learn the emotional patterns in your life, and break those destructive cycles.
You address the roots with EFT, and you heal and grow!