Happy 2008!
I have had a wonderfully relaxing New Year's Eve. My sister and her husband came over. We visited for a while, and then had dinner. Then we played Cranium. We had to skip many cards because except for my husband none of us were grown up in the US. For those who don't live in the US, Cranium is a board game in which you need to answer many cultural and general questions, draw pictures, act persons, spell words forward and backwards, hum or whistle songs… etc. It is fun.
At 12 am, we called my parents in Turkey. It was 7 am Jan 1st, there. I have always found it strange and fascinating at the same time that in some parts of the world, people already have lived a day that I am just starting.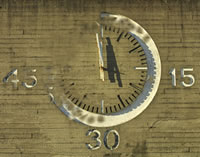 Nowadays I have been studying and learning more on how TIME doesn't actually exist. In the book "Mind, Life, and Universe" one of the scientists talks about TIMESCAPES similar to landscapes. It makes a lot of sense considering how time seems to slow down or stop in certain moments, and how it seems to fly away in other occasions. The idea that time doesn't exist makes me feel much better. It takes away the panic and anxiety of the time slipping away. This way, I still live by the rules of the time notion that society goes by, but not let myself be dragged away in frenzy with its perceived restrictions.