Hi there!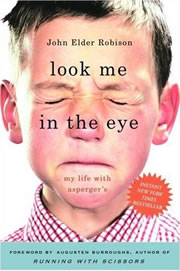 On one of my frequent visits to the library, I picked up a book with a picture of a squinting boy on my way to check out. The title read "Look Me In the Eye, My Life with Asperger's". I went home and started reading it. I saw that it was written by John Elder Robinson, brother of the writer of "Running with Scissors" which I happened to watch a few months ago. I read "Look Me in The Eyes" in a couple of days days. I was fascinated.
I felt the need to watch the movie again, which I did the next day. It was a much different viewing this time now that I understood that whatever these brothers wrote were their true life stories. I went to the library and picked other books by Augusten Burroughs.
I was listening to "Possible Side Effects" while I drove to the gym and to my clients, and read "Magical Thinking", "Dry", "Sellevison" and "Running with Scissors" which was much more detailed, more ragged and shocking than the movie. I am fascinated by the way they told their stories and the way they survived a dysfunctional family and a really strange childhood.
I am also amazed by the way they see the world, and their story telling abilities. The books also work as a great "memoir writing" crash course if you pay attention the way they write. Simple, fascinating and absorbing.
I also had an insight on why Augusten suffers from fingertip bleeding…