According to the survey by National Training Laboratories, in Bethel, Maine, below are the the percentages of how much of
what we learn stays with us
when when the learning comes through the specified methods
.
Lecture 5%, Reading %10, Audio Visual 20%, Demonstration30%,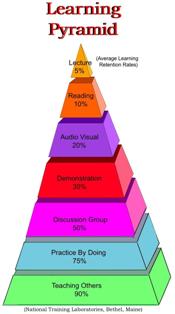 Discussion Groups 50%, Practice by Doing 75%,Teaching Others 90%.
Her is how I learn the things that I want to remember and make a part of my life. When I learn from a book, CD or video, I stop when a method is described and I apply the method right away.
If it is possible, I go to the yard or to a park to practice there. Being in and with the nature opens me up. I absorb the vibrant energies from the sun and directly connect with the earth by stepping on the grass barefoot. Then I get out of the mind and learning happens naturally.

When I practice new techniques, I heal and learn at the same time.
Then I start suggesting these new things to others, my family, friends and clients. The new information becomes a part of me very fast then.
When you try things on yourself first for a while, it is easier to understand how it might feel, what questions might arise, what variations might be needed, and what results to expect. Then when you show others you know most of the answers.