January 2010
As usual, something amazing happened since I last talked to you. I will not get into the details of what happened as it is not necessary. What's relevant for this newsletter is what is learned from the experience. When I say amazing, it does not mean it was desirable at the time it was happening. It actually looked and felt pretty scary and upsetting as it was unfolding. Yet, because of all the things we have been learning and practicing, we stayed rather calm rather than acting hastily. I personally did very well compared to my old self. I used to get worried, anxious and angry quickly. I opened my heart and observed what was happening in a different state. It was also pretty interesting to watch myself watching.

David and I acted with love and acceptance rather than fear and judgment. The results we personally got out of it could not have been gained in any other way in such a short time. It was a very intense experience for all. My son is the creator of it and I can not thank him enough for what he put us through!
Though living it was not easy, the gain is priceless! The experience became an unbelievably powerful healing opportunity. We all came out much stronger, more mature and loving. David cares more. My heart is more open. My son appreciates all the ways I am and the things I teach him. The awareness for all three of us and the gratitude for each other is deeper.
I love you son. I bow to you once more as my Healer!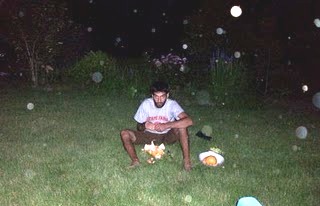 My son and his orbs this summer-
I don't know how many more he has now!